When it comes to choosing a dog breed, many people don't fully explore the options available to them.  Especially for individuals looking to add a medium sized canine to their family, the multitude of breeds that meet the size criteria is as vast as it is varied. Not all mid-sized dogs are created equal though, and a truly wonderful group of dogs to consider are Springer Spaniels. With a long and interesting history, high level of intelligence, playful personality, and love of the outdoors, they make the perfect addition to any home.
Springer Spaniels come in two distinct breeds, the English and Welsh, and are very closely related to other breeds of spaniel as well. Springers have been regular participants in dog shows for the last century, largely due to their fine coats and above average intelligence. They aren't just for looks though, as they still commonly pull their weight out in the brambles as hunting dogs also.
Finding true Springer Spaniels for sale will take a little more work than simply heading to your local pet store, but for the quality of a purebred Springer the extra work is well worth it. Purebred dogs can be more than simply companions, as litters of puppies are often highly desirable.
History of Springer Spaniels
Today Springer Spaniels (and others) are commonly categorized as gundogs, which is a nod to the origins of the spaniel breed as hunting animals. While the delineation of "Springer" for the English and Welsh Spaniels didn't come about until the early Nineteenth century, Spaniels in general were first described in 1576 in a book on English dogs by Dr. John Caius. The English and Welsh were given the title of "springer" when there was a move to describe spaniels by the tasks they performed. Springer Spaniels being the breed that "sprung" game from the bush, while the Cocker Spaniels retrieved the game and hunted woodcocks (they were also known as "hawking" or "cocking" spaniels).
Even after the delineation of names by function, both types of Springer Spaniels were taken from the same litter as Cocker Spaniels, with the names referring to the size of the animal rather than distinctly different breeds. Over the following century though, Springer Spaniels were developed as their own distinct breed, and today are markedly larger in size than the cocker. Possessing remarkable intelligence, often ranked in the top twenty most intelligent breeds, Springer Spaniels feature prominently at dog shows, as pets, and even as sniffer dogs in some countries.
Historically the Springers have suffered from similar health issues as other breeds. The most common aliment is hip dysplasia, which is a condition in the hips that can lead to arthritis and other complications. In addition to dysplasia of the hip, they can also suffer from elbow dysplasia. Joint conditions are not the only concern. Progressive retinal atrophy and retinal dysplasia, both of which can lead to blindness have also been known to affect these breeds.
Breaking Down the Springer Spaniel Breeds
Although they may have common ancestry, and be closely related in many aspects, there are distinct differences between the two types of Springer Spaniels. The most notable difference occurs in the coloration of the coats, although there are a variety of smaller physical variations distinct to each breed as well. Below is a short rundown of each of breed: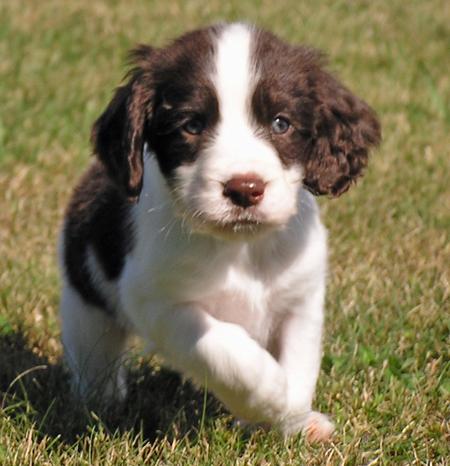 1)      English Springer: The English Springer Spaniel officially became a breed of its own (recognized by the English Kennel Club) in 1902. These spaniels  feature coat of liver and white or black and white, either of which can also carry tan markings as well. English Springers have a feathering to their coat on the body, legs, and ears, and their eyes are more almond shaped than their Welsh relatives and a dark hazel color. Their length to height ratio is about 5:6.
As far as temperament, the English Springer is playful and friendly and exhibits no natural aggressive tendencies. The one exception can be in the face of a weak authority figure, in which case there have been cases where Springers have used biting as a way to show dominance. Like all dog breeds though, a calm yet strong authority figure should suppress any of these urges. With their background in hunting and their keen intelligence, Springers are highly biddable animals (respond well to learning and following commands). The breed is energetic, and requires regular exercise and stimulation to remain happy.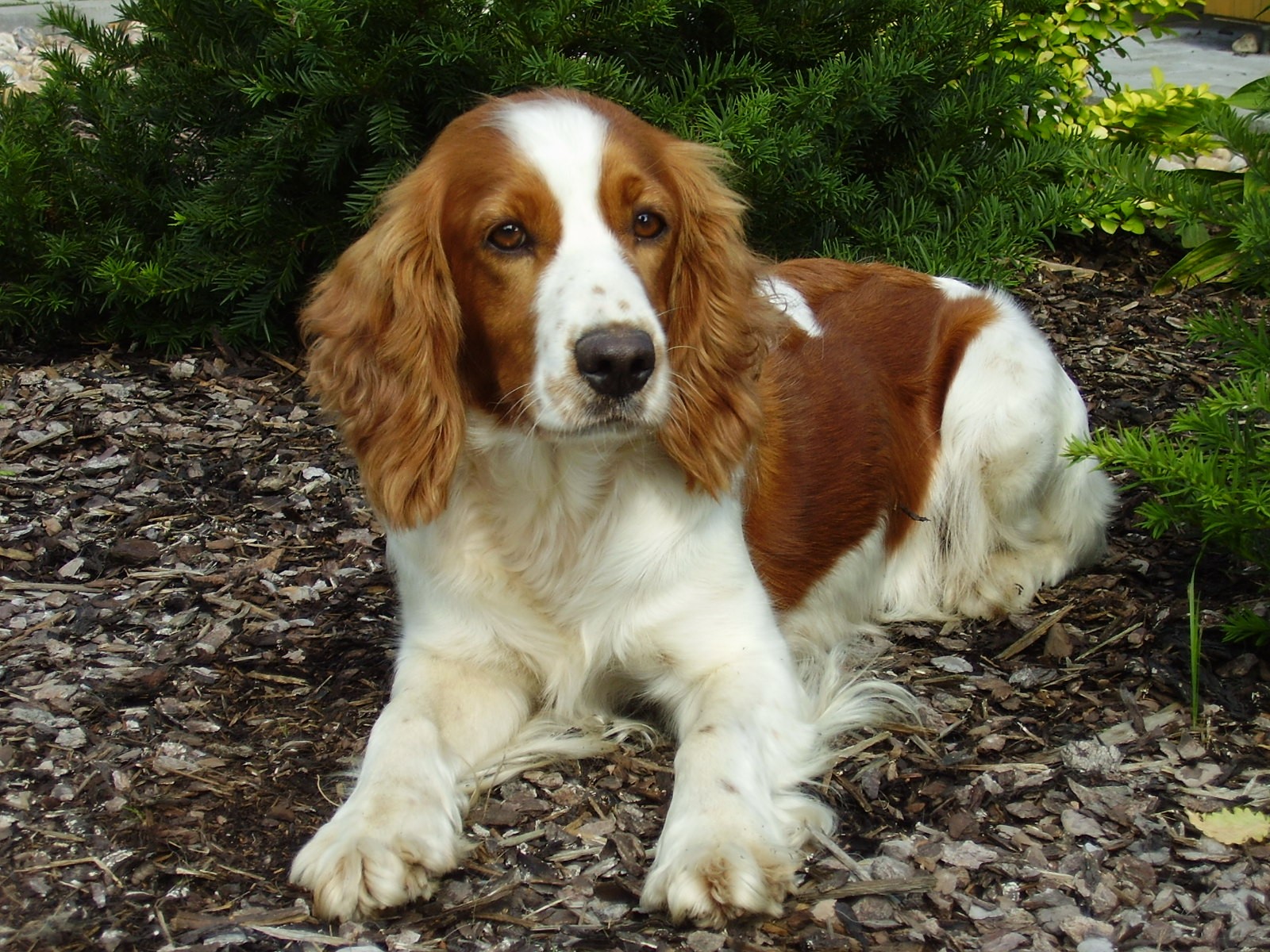 2)      Welsh Springer: Welsh Springers also gained their independence of breed in 1902, but they experienced trouble shortly after in the wake of WWI. At the conclusion of the war, there were no owners with registered pedigree, and the breed was started again with the unregistered dogs available. They do not come in a variety of colors, and a true Welsh has a red and white coat only. Like the English, Welsh Springers have feathering in their coat on their body, legs, and ears, although the feathering on their ears can be to a lesser degree than their counterparts. In addition, their ears are also somewhat smaller in length and width to the English. Their eyes are round and also hazel in color, and they have a length to height ratio of about 10:8.5, making them slightly lower set.
Welsh Springers have a similar temperament to the English, and are quick, friendly, and playful animals. They also require a calm, strong, authority figure for maintaining their best behavior. The Welsh is slightly more energetic than the English, and responds equally well to learning and obeying commands.
3)      "Field Springer" (Working Line vs. Show): When researching Springer Spaniels, it isn't uncommon to see reference to "Field Springers." This name can be misleading, as it is actually referring to an English Springer. The reason for the alternate name is that English Springers are bred in two distinct varieties: working line and show dogs. The difference between a working line or field dog, and a show dog is in the bone structure. According to breeders, "show" English Springers have a lighter bone structure than their field counterparts, and in general the field variety is a more durable animal. The differences may seem small, but anyone looking to adopt an English Springer should make sure that they know which of the two types they desire ahead of time.
Springer Spaniels for Sale
Now that the breeds of Springer Spaniels have been explored, it's time to look at the most important information for prospective owners: breeders. While purebred dogs are not an investment for everyone, to truly enjoy the benefits of this historic breed it is the only way to go. The more mixed blood that a spaniel has the less distinct and pronounced its breed's specific and desirable characteristics will be. Finding Springer Spaniels for sale from a breeder is not like visiting the local pet store. While locating a breeder as close to home is desirable, a one-time trip to meet and adopt a true Springer Spaniel shouldn't be out of the question. Below is a list of some reputable breeders that have Springer Spaniels for sale in North America. It is common for breeders to be between litters at any given time, and it takes persistence, patience, and determination to connect with a breeder and ultimately reserve a pup.
West Coast
English Cocker Spaniel Club of America Inc.:  P.O. Box 1542; Cedar Ridge, CA 95924; http://www.ecsca.info/
California Springer:  P.O. Box 1709; Bethel Island, CA 94511; http://www.californiaspringer.com/
Wyldwood Kennels:  4306 W Houston Rd; Mackay, ID 83251; http://wyldwoodspringers.weebly.com/
Midwest
Winterwood Eng. Springer Spaniels:  Paola, KS 66071; http://www.winterwoodess.com/
Springer Hill Farm:  N3343 550th St.; Bay City, WI 54723; http://www.springerhillsfarm.com/
East Coast & South
Red Oak Springers: 50 Red Oak Lane; Rensselaer, NY 12144; http://www.redoakspringers.com/
Chivalry English Springer Spaniels: Thompson, CT 06277; http://www.chivalryspringers.com/
Paradise Springers:  11355 Old Squaw Avenue; Weeki Wachee, FL 34614; http://www.paradisespringers.net/
Shady Oak Springers:  Morrison, TN 37357; http://www.shadyoakess.com/
American Kennel Club
Another great resource for finding reputable breeders of Springer Spaniels (and any other breed for that matter) is through the American Kennel Club's (AKC) website. Their website provides links to currently available puppies, which is more convenient than scouring various breeders' websites to check on the status of their litters. An additional advantage of using a breeder located through the AKC is that the purity of the bloodline is not in question. While it shouldn't be an issue with most breeders, there is always the risk of getting less than a purebred from buying from an unknown seller.
Breeders listed on the AKC website have their status with the AKC listed, as well as their location, contact information, and the date of birth for their available puppies.